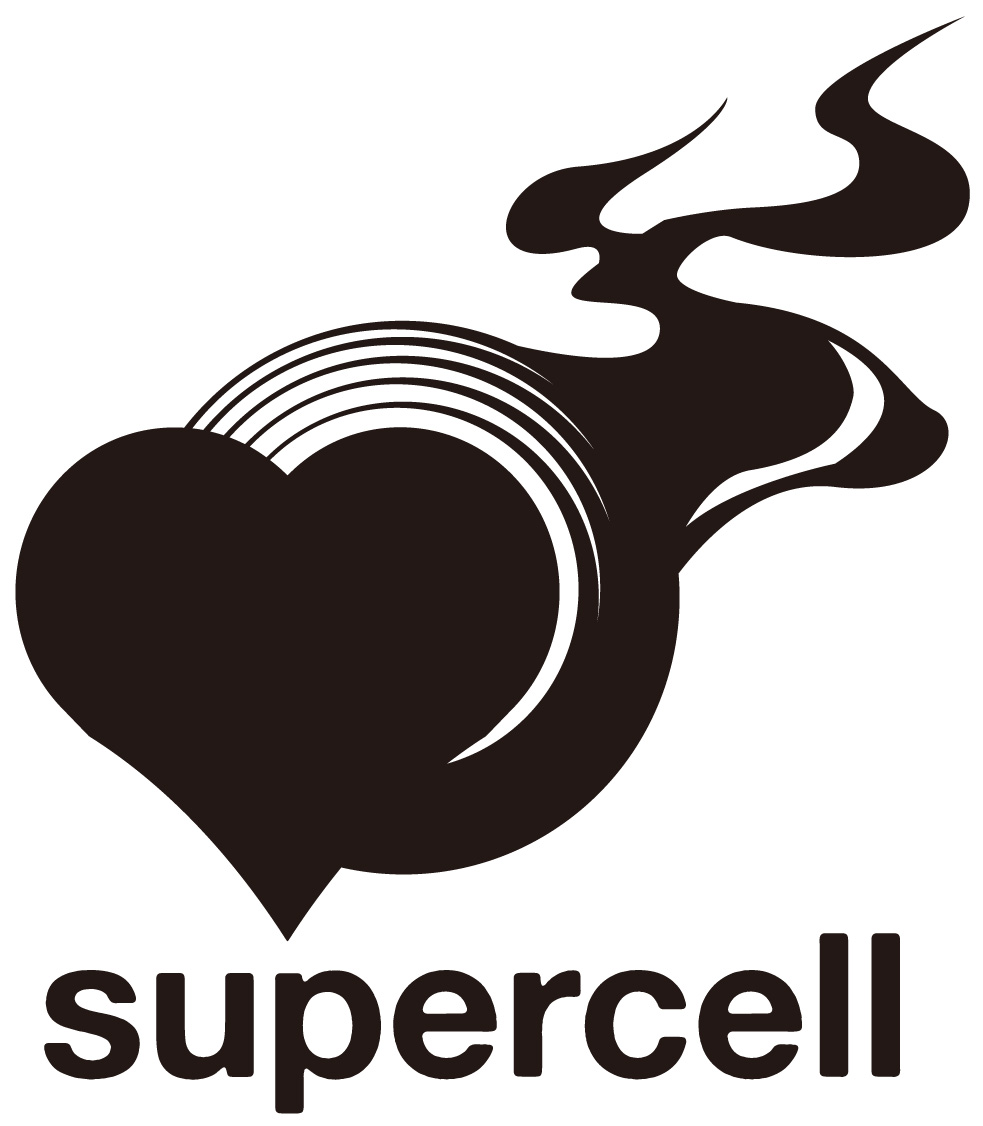 supercell (スーパーセル) is a doujin group which has produced various hit songs and related art, focusing on the Vocaloid Hatsune Miku. Because ryo used 119's illustration in a video of "Melt" without 119's permission and did an ex post facto report, the interchange of ryo and 119 began after supercell was formed. On May 10, 2011 the hit single "World is Mine", was presented on US Amazon. As of June 21, 2011, Supercell's 1st album may be bought on iTunes. [vocaloid.wikia.com]
supercell is a Japanese 11-member J-pop music group led by songwriter Ryo, which formed in 2007 as a dōjin music group. The other 10 members are artists and designers who provide illustrations in album booklets and music videos. supercell started out by making use of the Hatsune Miku Vocaloid singing synthesizer to produce vocals for songs submitted to the Nico Nico Douga video sharing website. The popularity of the songs led the group to release their independent self-titled album supercell (2008). supercell later signed to Sony Music Entertainment Japan and had a professional release of their supercell album in March 2009, which was updated with more songs.
supercell made a transition to vocalist Nagi Yanagi with their debut single "Kimi no Shiranai Monogatari" (2009). Two more singles featuring Yanagi were released in 2010, followed by supercell's second album Today Is A Beautiful Day (2011), which was Yanagi's last contribution with supercell. Following Yanagi's departure, Supercell held auditions for vocalists, and two girls were chosen out of about 2,000 candidates: 15-year-old Koeda and 17-year-old Chelly. Both vocalists sing theme music for the 2011 anime Guilty Crown, and released their first singles with supercell in 2011.
supercell and Today Is A Beautiful Day were awarded a Gold Disc by the Recording Industry Association of Japan for having exceeded 100,000 copies shipped in a single year, and supercell was chosen as one of the best five new Japanese artists of 2009 during the 2010 Japan Gold Disc Award competition. [wikipedia.com]
Awalnya, di tanggal 7 desember 2007, ryo mempublikasikan lagu pertama nya yang menggunakan Vocaloid ke Nico-Nico Douga berjudul MELT (メルト) menggunakan ilustrasi milik 119 tanpa izin si pemilik gambar. ryo ingin minta maaf kepada 119 karena mengambil gambar nya tanpa izin. Namun bukannya marah dan menuntut, 119 justru mengajak ryo untuk membuat band, dan akhirnya diberi nama supercell dan banyak anggota yang bergabung hingga 11 orang. Di tahun 2008, supercell langsung mengeluarkan lagu baru berjudul Koi wa Sensou (恋は戦争) dengan ilustrator Miwa Shirow dan langsung populer, pada 22 Februari World is Mine (ワールドイズマイン) dengan ilustrator redjuice, dan 31 Mei Black Rock Shooter (ブラック★ロックシューター) dengan ilustrator huke. Pada 15 Juli lagu-lagunya dilihat jutaan orang. Lalu ryo juga membuat lagu Kibo no Neiro (キボウノネイロ) dijual limited edition saja.
Pada Comiket 74, di Agustus 2008, mereka merilis album self-titled berjudul "supercell" yang berisi lagu-lagu sebelumnya yang populer dan lagu-lagu nya yang belum di rilis. 12 Desember 2008, mereka merilis lagu baru berjudul Hajimete no Koi ga Owaru Toki (初めての恋が終わる時) dan langsung ditonton lebih dari sejuta penonton. Ini merupakan lagu terakhir supercell yang dirilis di Nico-Nico Douga.
Ditahun 2009-2011, supercell menggaet yanagi nagi (やなぎなぎ) aka Gazelle sebagai Vocal nya. Nama nagi dan supercell pun akhirnya marak terdengar dimana-mana.
bahkan banyak orang yang mengira kalau nagi itu vocal tetap supercell, jadi mereka sering minta nagi kembali
Tentu saja, lagi-lagi nama supercell melambung tinggi hingga memenangkan nominasi Artis Pendatang Baru 2009 pada acara 2010 Japan Gold Disc Award.
Ditahun 2011-sekarang, supercell merilis lagu Sekiranun Graffiti yang berkoloborasi dengan Dixie Flatline.
Kemudian supercell menggaet Koeda dan chelly (Keduanya terpilih saat supercell mencari vocal.) sebagai pengisi Vocal yang kosong karena kontrak dengan nagi sudah habis. Kali ini karya salah satu anggota supercell, redjuice yaitu Guilty Crown diangkat menjadi anime. kali ini ryo dipercaya untuk mengurus bagian OP , ED dan Side Song nya. Akibatnya, ryo mengurus supercell dengan vocal Koeda sebagai OP 1 Guilty Crown yaitu My Dearest dan ED 2 nya yaitu Kokuhaku. Lalu chelly dalam EGOIST dengan lagunya sebagai ED1 yaitu Departure ~anata ni okura ai no uta~ , OP2 Everlasting Guilty Crown, dan side song Euterpee.
Tak mau ketinggalan, Black Rock Shooter, karya huke setelah diangkat jadi OVA dan Game, akhirnya diangkat seri anime nya pula. Kali ini lagi-lagi ryo turun tangan dan mengisi ED nya Bokura no Ashiato. Ternyata kemampuan ryo dilirik kembali oleh beberapa orang hingga dipercaya membuat lagu untuk OP Shakugan no Shana Final berjudul Light My Fire yang dinyanyikan KOTOKO dan ED Nisemonogatari dengan ClariS sebagai penyanyi nya dengan lagu berjudul Naisho no Hanashi.
Anggota nya
Ryo (music, lyrics)
Shirow Miwa (illustration)
Huke (illustration)
Redjuice (illustration)
Suga (illustration)
Maque (illustration and animation)
Yoshiki Usa at Wooserdesign (design)
Hei8ro (Heihachiro) (support in illustration and photography)
Guitar (support in illustration)
Crow (support)
Golv (support)
Former members
119 (Hikeshi) (illustration)
STATUS:N\A → Assumed active
GENRE:J-Pop
LABELS:Sony Records
ASSOCIATIONS:Sony Records
OFFICIAL:Official Supercell Site
Nanti saya kasih link lagu-lagu nya dan rekomendasi lagu yang bagus nya...